Category: George Nicoll Hickory Golf Clubs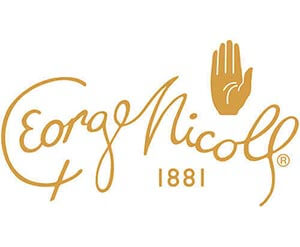 Nicoll's designs were innovative and thought provoking. This was demonstrated perfectly by the development of a swan neck putting cleek in 1895 which created the same effects as a modern center-shaft putter. The designs struck a chord with the golfing public and Nicoll attracted some very large orders – one being placed in 1898 by the Forth Rubber Company for 10,000 clubs. George Nicoll remained owned and distributed worldwide by the same family until 1982. Nicoll's famous cleekmark–an outlined depiction of an upright, palm-facing hand–first appeared in 1905 and is still on the clubs we produce in his honour today.
Players who used George Nicoll
Nicoll's clubs have transcended the decades and been used by many of the great players. The loyalty these players have shown to the brand is a testament to the design and quality immersed in every club manufactured in his name.
Sir Henry Cotton
Upon leaving school in 1923, Cotton became an assistant teaching professional at Fulwell Golf Club. It was only when he moved to the Waterloo Golf Club in Belgium in 1932, at the age of 26, that saw his game improve to tour standard. He achieved fame during the 1930s and 1940s, with three victories in The Open Championship (1934, 1937, and 1948). His record round of 65, made during the 1934 Open Championship, led to the Dunlop golf company issuing the famous 'Dunlop 65' ball. Throughout his career, Cotton as placed in the top-10 of The Open an incredible 17 times. Cotton was a playing member of three British Ryder Cup teams, in 1929, 1937 and 1947, serving as captain of the team in 1947, and was a non-playing captain in 1953. A trained pilot, he served with the Royal Air Force during World War II and was awarded an MBE for raising funds for the Red Cross through organising and playing in exhibition matches.
Vivien Saunders
Born in 1946, Vivien started playing golf at the age of 7. A stellar amateur career came together in the preceding years and she represented GB&I in the Curtis Cup at Royal Country Down, in addition to successfully representing England and GB&I in a number of championships. After turning professional, she played on the LPGA Tour in 1970 and 71, with a major victory coming in the 1977 Women's British Open. Away from the playing side, Viv's positive influence on the game has been immense - she has been a TV commentator, respected golf writer and coach to the English, Welsh and Irish Golf Unions (plus a host of leading amateur and professional players). Holder of an MBA, a PhD in Psychology and an LLM in Sports Law, she has been pivotal in driving positive change through the championing of equality and diversity in the game.
Dai Rees
Proud Welshman, Dai Rees, was born in the Vale of Glamorgan on 31 March 1913. His introduction to golf was almost immediate, through his father who was head professional at The Leys Golf Club. Rees turned professional himself aged 16 as an assistant to his father before moving on to head professional roles at Hindhead and then South Herts Golf Club. His playing career spanned 5 decades and included 43 international wins and with 3 runner-up finishes in The Open. He was a legend of the Ryder Cup and played on 9 Great Britain and Ireland teams and captained 5 on 5 occasions. It was the 1957 event at Lindrick that etched his name into Ryder Cup folklore when the team he captained the team that beat the US side 7½–4½ victory to break the United States' stranglehold on the trophy. A true lover of the game, he remained head professional at South Herts until his death in 1983